Perhaps many of us, especially those living in Gerik, still remember the calamities that resulted from the attempt of an armed force to overthrow the government in mid-2000.

The attempt was done by Al-Maunah group under the leadership of Mohamed Amin who made the hill area in Sauk as their operations headquarters. For your knowledge, in this article orangperak.com will expose in detail what happened at that time.
Al-Ma'unah Brotherhood Group is a Malaysian militant terrorist organization known for their intentional intrigues against a Malaysian Army Reserve (Rejimen Askar Wataniah) Batallion camp at the dawn of 2nd July 2000 and abolished a large number of firearms from the armoury store.
The group then set up its secret base in a forest area near Sauk village, Perak and was besieged by Malaysian Armed Forces and Royal Malaysian Police.
The group was eventually defeated by the attack from the Army's Gerakkhas commando elite troops and the the Royal Malaysian Police's elite commander VAT69 troops.
This group's real name is the Brotherhood of Knowledge In Al-Ma'unah and better known as Al-Ma'unah. The group has also a website explaining that Al-Ma'unah is an organization that studies the practice of using internal energy and learning traditional Islamic medicine.
"Ma'unah" means the most remarkable thing that happened to most Muslims. The group claims to have membership of 1,000 people worldwide, including Malaysia, Brunei, Singapore, Egypt and Saudi Arabia.
The Gerik-based terrorist group has 20 members and was led by Mohamed Amin bin Mohamed Razali. Al-Ma'unah Group has a purpose to overthrow the Malaysian government.
But not all of the members who joined the group knew that purpose of their leader. This group includes a Major from the highly-regarded Malaysian Army who are knowledgeable on the in and out movements in the army camp and location of the firearms.
The group has had a very thorough plan to invade and seize the weapons of the armed forces. They obtained information on the vulnerability of the military camp security system and owned three units of four-wheel drive Pajero vehicles.
The Pajero, of similar make to that used by the Malaysian Army was painted green and given false number plate at a house rented in Kati, for the specific use as a transit point for the group.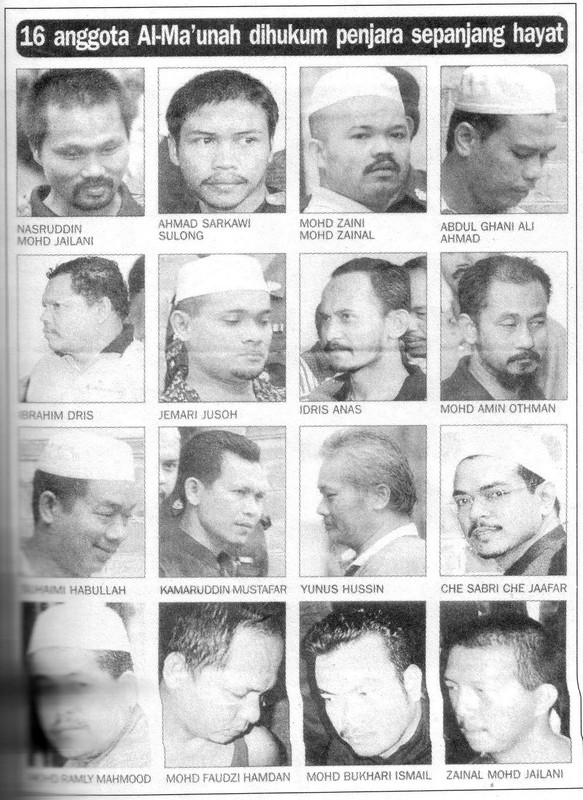 Early in the morning of 2nd July 2000, a silent atmosphere in Gerik eventually turned into chaos which spreads throughout Malaysia. 20 Al-Maunah group members boarded three Pajero vehicles and headed for Post 2 Kuala Rhui camp at 2.50am and then to 304th Malaysian Army Reserve (Rejimen Askar Wataniah) Batallion camp at 4.15am.
They dressed up in senior military officer's suit and claimed to be making a surprise inspection of the 304th Malaysian Army Reserve Batallion camp at the Temenggor Dam, Gerik, Perak.
They talked their way into the Camps by feigning a surprise inspection, to conduct emergency spot checks of all the weapons and ammunition stored at both camps.
Impressed by the manner in Amin and the others conducted themselves and assured by the presence of the three Pajero vehicles bearing the military registration numbers beginning with the letter 'Z', the military personnel at the two army camps were duped into allowing the group to take possession of all but one of the various army weapons, ammunition and other army equipment including communication equipment and some even helped the group to carry the weapons into the three Pajeros.
They took away a huge cache of firearms and ammunition, including 97 M16 assault rifles, two Steyr AUG rifles, four GPMGs, six light machine guns, five grenade launchers, 182 M16 magazines, eight extra barrels of GPMGs, three extra barrel of LMGs, 26 bayonets, 9,095 rounds of 5.56mm and 60 rounds of 40mm ammunition.
The 27 members then took cover in the forest of Bukit Jenalik, Sauk, Perak. Amin distributed all weapons to his people for training. As a result of the firearm usage, the gunshots which were rarely heard by the villagers alerted police's attention.
The group was preparing for their plans, including gathering food supplies and bringing them into their base in Bukit Jenalik. The food supply was enough for only three months. They also acquired other weapons such as machetes and arsenal to accomplish their mission.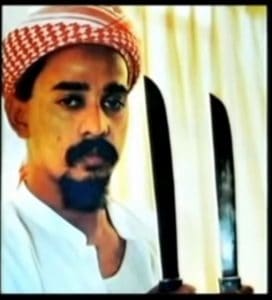 A team of Police were immediately deployed to encircle Bukit Jenalik and restrict their movements. Then, a number of security forces were sent to infiltrate into Al-Ma'unah camp. However, two of the police personnel Sergeant (Sarjan) Mohd Shah Ahmad and Detective Corporal Raju Saghadevan, as well as civilian Jaafar Puteh and an army personnel, Corporal Matthew anak Medan, were taken hostage by Al-Ma'unah.
In the communication radio used by the group, they threatened to attack Kuala Lumpur if their demand for the Prime Minister of Malaysia – Dato' Seri (now Tun) Dr Mahathir Mohamad – to resign within 24 hours is not fulfilled. Jaafar Puteh was a civilian who wandered into their camp while looking for durian fruit.
Sergeant Mohd Shah bin Ahmad recalled during the trial that over the four days, the security personnel were abused and tortured. They were forced to dig a trench in Bukit Jenalik to be used as a defence camp if their base were to be attacked.
In the evening, they were tied to durian trees. At that time, Mohd Shah and Sanghadevan buried Trooper Matthew in one of the trenches. Trooper Matthew was arrested by Jemari bin Jusoh and when Amin knew the former's identity, Amin tortured Matthew by shooting his leg. Amin then ordered Jemari to shoot Trooper Matthew.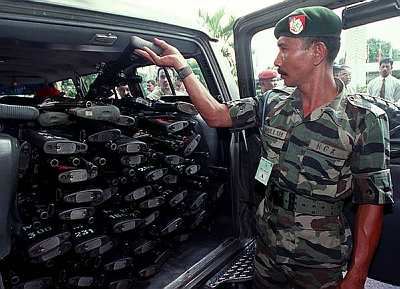 In the morning of July 5th, 2000, a member of Al Ma'unah, Abu Bakar bin Ismail was shot by the security forces. In response, Amin and his friends reacted to the gunfire.
During the cross shooting, Sanghadevan was shot dead. Sanghadevan's body was later buried next to Trooper Matthew by Mohd Shah and Jaafar. Al-Ma'unah later surrendered, and the leaders brought to trial for "waging war upon the King."
The Malaysian Government acted against the Al-Ma'unah group only after giving it every chance to surrender and retained public support by giving the Al-Ma'unah members fair trials and re-integrating them into society.
Mohamed Amin Mohamed Razali was the last to surrender. Just before doing so, he grabbed the Malaysian Army Field Commander, Lieutenant General Zaini Mohamad Said by his shirt and tried to shoot him at point-blank range.
The General flicked the barrel of Amin's assault rifle and the bullet hit one of the militants. Zaini was later awarded the Seri Pahlawan Gagah Perkasa (S.P.) award for his bravery and contribution in ending the siege without further loss of life.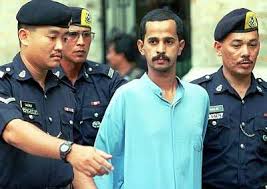 Actually, two hours before the incident, ASP Abd Razak bin Mohd Yusoff headed the headquarters together with 20 elite troopers from 69 Commandos PGK PDRM and climbed the hill towards Al-Ma'unah Group camp.
Having received appropriate protection for his group members, ASP Abdul Razak moved alone to sneak into the fort. With boldness and tawakkal, he found the head of Al-Ma'unah, Mohamed Amin.
A discussion took place between ASP Abdul Razak and Amin for 2 hours and finally, the leader of Al-Ma'unah group agreed to surrender. It was only then that ASP Abdul Razak summoned Lieutenant General Zaini for the weapons placement process.
Abd Razak bin Mohd Yusoff was also awarded the Seri Pahlawan Gagah Perkasa for his bravery as a role of mediator in the incident. Razak was the officer-in-charge of the Parachute Branch, Pasukan Gerakan Khas, Royal Malaysian Police.
It was estimated that three people had died before the group surrendered. Corporal Detective R. Sanghadevan of the PDRM Special Branch was killed; some claimed that he was executed during the siege by 59 police and military personnel.
The militant terrorists also killed a commander, Trooper Mathew son of Medan from the ATM's Special Movement Group, where he was shot dead by Jemari Jusoh. They were tortured before being killed. The third person killed was a member of the group where he was shot dead when he refused to surrender.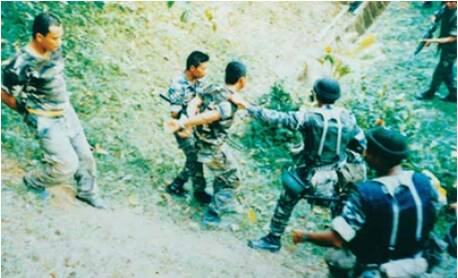 Mohamed Amin Mohamed Razali also sent members to bomb the Anchor and Carlsberg breweries in Petaling Jaya and Shah Alam near Kuala Lumpur and the Hindu temple in Batu Caves.
Only minor damage was done. Members of the group, Shahidi and Roslan, later admitted to attacking the Carlsberg brewery on the outskirts of Kuala Lumpur with grenade launchers stolen from the army camps.
Mohamed Amin and his group were brought to trial for charges of "waging war against the King," and became the first people convicted of such offence in Malaysia.
Amin and his two lieutenants, Zahit Muslim (ex-police VAT-69 commando) and Jamaluddin Darus, were sentenced to death. Sixteen others were given life sentences.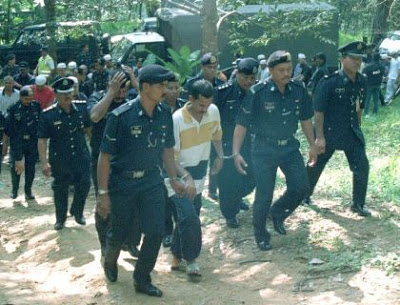 In June 2003, the Federal Court turned down Mohamed Amin's appeal for life imprisonment and confirmed the death sentence on him for waging war against the King.
Megat Mohamed Hanafi Ilias, Muhamad Nukhshah Bandi Che Mansor, Riduan Berahim, Azlan Abdul Ghani, Shahidi Ali and Khairul Anuar Mohamed Ariffin, were sentenced by the High Court to ten years in jail after pleading guilty to treason, a lesser charge.
They were originally charged with waging war against the King, an offence that carries the death penalty or life imprisonment. Instead, they accepted a guilty plea in a reduced charge of preparing to wage war against the King, which refers to collecting or attempting to collect men, arms or ammunition with the intention of waging war.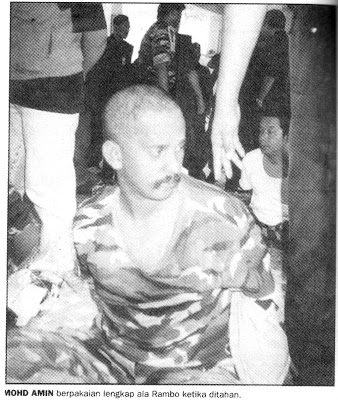 15 Al-Mau'nah detainees were released from the detention of the Internal Security Act (ISA) on 24 November 2003, however the release came with a string of conditions which included restricted residence to a particular district, the need to report to police weekly, and a 9 pm to 6 pm curfew.
Mohamed Amin Mohamed Razali, leader of a militant group, was hanged at the Sungai Buloh Prison in Selangor on 4 August 2006, as reported by Bernama news agency. Zahit Muslim, Jamaluddin Darus, and Jemari Jusoh were hanged a week earlier.