On September 24th, 1987, His Highness Sultan Paduka Seri Sultan Azlan Muhibbuddin Shah Ibni Almarhum Sultan Yusuf Izzuddin Ghafarullahu-lahu Shah commemorated the opening of Ipoh to Chnagkat Jering Highway. This 55 kilometres long highway project costs $360 million.

The construction of this highway has benefited many people today as it shortens the journey from north to south as far as 30 kilometers.
The highway has been in use since August 31, 1986, in conjunction with the country's Independence Celebration. It is the second highway with toll charges in Perak after the Slim River to Tanjung Malim highway. This construction project aims to develop the country's tourism industry as well as to develop the state of Perak itself.
The 55-kilometer highway project will not complete without the two tunnels measuring 880-meters and 830-meters each, known as the Menora Tunnel. Despite being side by side, their difference in length is attributed to the difference in their entrance, corners and exits. Menora Tunnel is located under Banjaran Keledang, Perak. Now, these 800-meter tunnels are part of the North-South Expressway.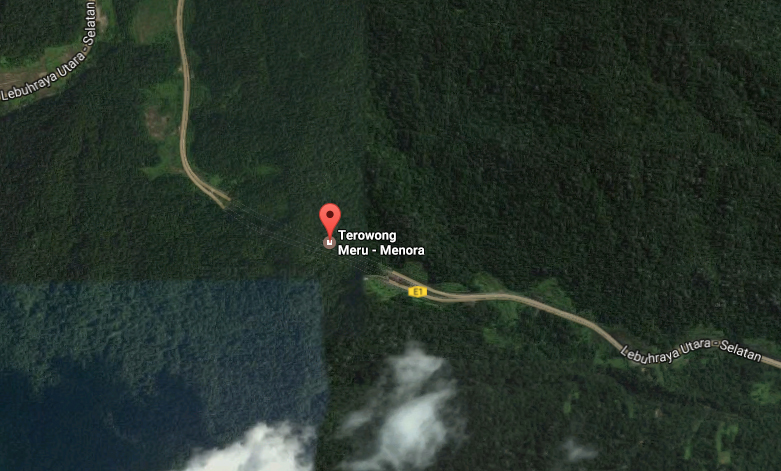 The Menora Tunnel has not escaped from a myriad of mystical, mysterious and horror stories, just like Karak Highway since it was first opened to public use.
The former has been associated with a vagabond, a yellow Volkswagen, and a scooter. However, this has become the essence of our people who love to share mythical stories to add some 'taste' to their discussion.
Since these tunnels are located in Banjaran Keledang, the highway's passage is quite steep with sharp corners at both north and south. The highway is also known as the line of death, attributed to the high statistics of deadly accidents which occured frequently throughout the year. Therefore, drivers are advised to always use low gear when driving down past the tunnel.