Osman Hamzah or better known as Pak Man Telo from Taiping, Perak was an organizer of the famous rapid rich scheme in Malaysia some time ago.

Do you still remember Pak Man Telo? Or were you victimized by the scheme he organized? Keep reading to gain some more information on Pak Man Telo.
In 1989, Osman Hamzah's house was raided by Bank Negara Malaysia (BNM) and cash of almost RM 2million was found in his home. Pak Man Telo was detained on April 11, 1991 and was banished to Kampung Terong, Kuala Berang, Hulu Terengganu under emergency ordinance.
He was then arrested again in July 17th, 1991 and was charged under the Financial Institution and Bank Act (Bafia) Act in 1989. During his trial in court, Pak Man Telo admitted of not knowing the exact amount of capital collected by his company named Pertama Sdn Bhd because no one carried out recordings of each transaction since they first operate.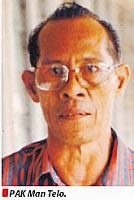 Here's an introduction of a brief biodata for you to know Pak Man Telo or his real name, Osman Hamzah. Initially, Osman Hamzah was a part-time journalist in Taiping, Perak before starting a rapid rich scheme. Pak Man Telo's rapid rich scheme started in 1972 and is believed to have involved nearly 50,000 investors with a fund of more than RM99 million.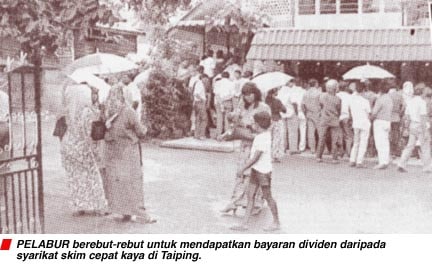 The people were enraged with Pak Man Telo due to his failure to pay the promised dividend and this caused a violent act by a group of six men who later kidnapped his son in 1991.
They locked up Pak Man Telo's son at Hotel Tropicana, Jalan Ipoh, Kuala Lumpur from 28th February to 5th March 1991 to force Pak Man Telo to recover RM426,767 which was invested in the scheme. The six men were eventually arrested by the police and brought to court.
There were also several people who sued Pak Man Telo. A total of 175 investors have initiated a suit against Pak Man Telo in March 1991. This was followed by another 284 investors in April 1991, who continue to sue Pak Man Telo and their action were adopted by many other.
Pak Man Telo served a jail sentence in Taiping prison for 2 years and was released on November 17, 1992. Then, Pak Man Telo was taken to Kuala Berang, Terengganu for the district's disposal order.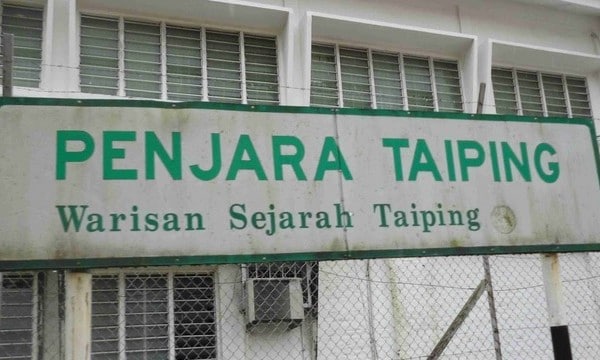 Thereafter, the story of Pak Man Telo began to sink and forgotten by the public. Pak Man Telo lived a quiet life with his second wife and their son in Terengganu.
He started a new life there and supported their living by repairing radio and television. At the age of 70, Pak Man Telo died of anxiety disorder on December 22, 1997, ending the history of a man who was among the richest pioneers of the scheme in this country.
The impact of Pak Man Telo's rapid rich schemes makes it to be remembered until date and maybe shall be remembered as one of the pioneers of the existence of rapid rich schemes in Malaysian history.
As a reminder, let the bygones be a lesson for us all. There is no easy way to get rich overnight. It's not easy to be happy, it's not hard to be poor.