Not many Malaysians,even those who were born in Perak themselves, have ever known about several items which symbolise the sovereignty of Perak Sultanate. Perak Sultanate is actually a continuation of the great ruling by Malacca Sultanate which owns Tanah Melayu once upon a time.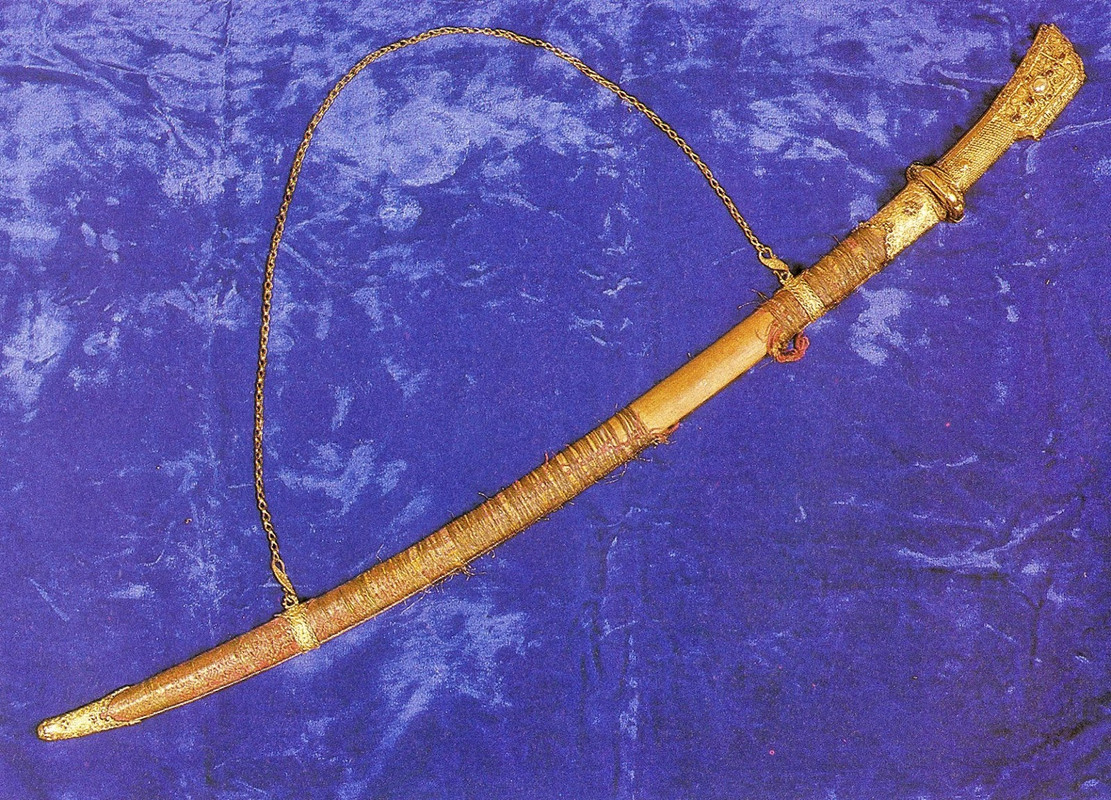 This time we will talk about Pedang Cura Simanjakini which happen to be as one of the Perak Sultanate's regalias. According to Sulalatus Salatin, Malacca Sultanante inherits it from Temasek and it origins from The Great Kingdom of Ancient Malay.
Cura Simanjakini comes from Sanskrit words "Churiga Si Mandakini" which means sword from Mandakini. According to the History of Perak's Rulers, Perak Ruler is the descendant of Sang Sapurba, son of Raja Suran and Puteri Mahtab al-Bahari, daughter of Aftab al-Ardzi,the descendant of The Great Iskandar Zulqarnain.
Sang Sapurba also famously known as Sri Nila Pahlawan. The sword was brought by Sang Sapurba to Gunung Saguntang Mahameru, situated in Palembang. Then, he married Wan Sendari, the child of Demang Lebar Daun. The agreement between Demang Lebar Daun and Sang Sapurba, in which Sang Sapurba will be the leader of the Malays, was made there too.
According to Malay Annals, Demang Lebar Daun is the first one to use formal language when he talks to royals, since Sang Sapurba is one of the royals. Sang Sapurba adjure upon his servant, "What is it that is desired by my father?" and he, Demang Lebar Daun with all the respect for his Master, answered, "With all the respect to Your Highness, even if there is fault and mistake by my progeny then it shall be remedied by your offsprings and shall they sin insomuch as then do not honor it nor shall it be reviled with degrading words. If the sin acquired a punishment by death then let it be as long as it happen by what the Shara' has stated"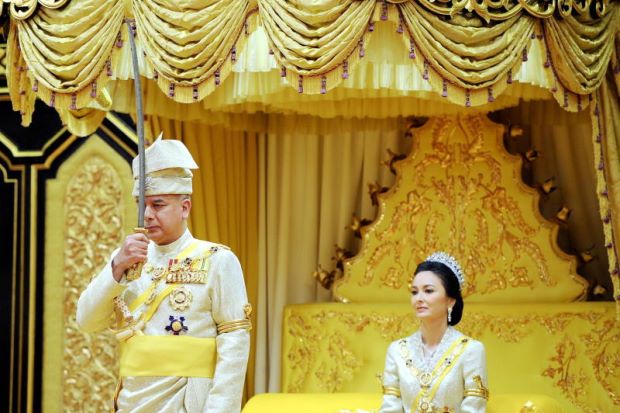 And the Si Purba then uttered, "His wish is my command but I need him to make an oath with me" in which Demang Lebar Daun asked with, "Which oath is it, your Highness?". "when it is time to come, near in the future, your descendants shall not perfidy mine no matter how evil they are." Demang Lebar Daun obediently answered, "Yes your Highness but if your spawns are the one who move his pieces then my offsprings shall do the same." Si Perba then expressed his agreement. "Your wish shall I bring to my grave." Both of them then created a pledge that stood strong, whoever in their mind ever dared to break any of it then by God wish, they shall be destroyed.
He then continues his journey to Minangkabau and upon reach there, he asked his warrior, Pemasku Mambang, to kill a snake, Saktimuna, which has caused chaos in the village and killed so many innocence villagers, using the sword. Pemasku Mambang succesfully killed the snake by cutting it into three parts and Sang Sapurba been appointed as the first Raja Melayu.
Parameswara used the sword during his coronation as the King of Malacca and use the Sultan tittle during 1405. Then he inherits the sword to his descents. The sword was then brought to Kota Kampar after Malacca has been occupied by Portuguese. The sword was then given to his son, Raja Muzaffar and brought to Perak when Sultan Muzaffar Shah become the first Sultan Perak on 1528. Until now, the sword is one of the Perak's regalias.
The sword was once said to be brought to England due to contentious between Sultan Ismail and Sultan Abdullah Muhammad Shah which cause the death of J.W.W Birch at Pasir Salak on 1875.
Sultan Perak cannot be coronated if the sword is absence. During the coronation, YM Raja Chik Muda Pawang Diraja will present the sword to DYMM Paduka Seri Sultan. Paduka Sri Sultan will hold upon the sword and slightly kiss the sword. The sword will then be put back and being carry on the right shoulder, just like how it was carried by Sang Sapurba when he makes the agreement with Demang Lebar Daun.