This article is published not to undermine any party concerned, it is a well-deserved history to be remembered and should be known to all parties so that it is not lost or overlooked.

In the article of orangperak.com this time, we will be telling about the events on how the first Sultan of Selangor was appointed as the ruler in Selangor and this story is closely related to the 16th Sultan of Perak which was Sultan Mahmud Syah II.
What do you know about the first Sultan of Selangor? For your knowledge the loyal readers of orangperak.com, Raja Lumu was the first Sultan of Selangor.
His Majesty Raja Lumu was better known as Sultan Salehuddin Shah and he was the son of Daeng Chelak which was the Yamtuan Muda Johor II of Bugis blood.
Everything started in the year 1740 when Raja Lumu's father Daeng Chelak along with his army from Riau came to Selangor to fight the army of Daeng Mateko.
At that time, Daeng Mateko was said to have caused havoc in ​​Selangor. After the war, Daeng Mateko was defeated and escaped to Siak and thus, Daeng Chelak, who had won the war, immediately gained support from the community of Kuala Selangor who later appointed him to become the leader of Selangor.
From that day on, Daeng Chelak often move to and fro Selangor and to Riau.
Daeng Chelak's wife, Tengku Mandak, a princess from Johor Riau Sultanate was the daughter of Sultan Abdul Jalil Riayat Shah, who was the 11th Sultan of Johor (also a younger brother to Sultan Sulaiman Badrul Alam Syah, the 13th Sultan of Johor).
The result of the blissful marriage between Daeng Chelak and Tengku Mandak was their two sons. Raja Lumu was the eldest son and Raja Haji Fisabilillah, the second son.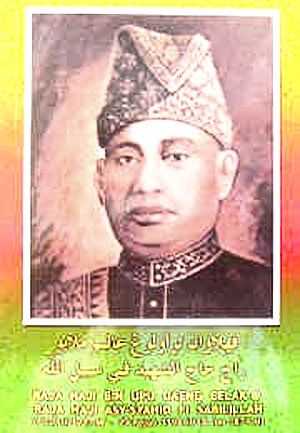 Raja Haji
Every living would surely die. On May 19th, 1745 Daeng Chelak passed away while in Riau. Daeng Chelak died when his children were small. The death of Daeng Chelak had left a vacant position as Yamtuan Muda Johor-Riau.
His sons Raja Haji and Raja Lumu were said to be unable to replace his father's post because at that time, they were still small and growing teenagers.
Therefore, the post of Yamtuan Muda Johor-Riau was handed over to Daeng Kemboja, a Raja Lumu's cousin.
Daeng Kemboja was a child of Daeng Parani. While Daeng Kemboja was in Selangor, he was appointed by the Bugis in Selangor to become their leader. In 1748, Sultan Sulaiman Badrul Shah, the 13th Sultan of Johor, appointed Daeng Kemboja as Yamtuan Muda Riau III.
Daeng Chelak's sons will be assigned to become the leaders in Riau and in Selangor after they've grown up.
In 1766, Raja Lumu grew up and was ready to become the head of Selangor. Raja Lumu intended to free Selangor from Johor Riau clutches because when rethought, the opportunity for Raja Lumu to hold the post of Yamtuan Muda Riau will either be too long ahead or none at all.
Thus, Raja Lumu aspires to free Selangor from Johor Riau to become the Sultan of the area.
For that reason, Raja Lumu sought to gain recognition from the Sultan of Perak, Sultan Mahmud Shah II, the 16th Sultan of Perak. Among the factors that led to Perak state being chosen by Raja Lumu to strengthen his position were; 1) Sultan Mahmud Shah II, the Sultan of Perak was the heir of the Malacca Sultanate, 2) Raja Lumu had no royal equipment for Selangor, 3) administrative factors in Johor, 4) the origin of Raja Lumu from Riau and 5) sovereignty factors.
Raja Lumu wanted to strengthen his throne and his grandchildren's later as the real king of government in Selangor, not under the control of Johor-Riau Government, which during that time was as grand as Perak.
With the recognition from the Sultan of Perak, Raja Lumu's position will become stronger in the Selangor government and will not be disputed by any parties.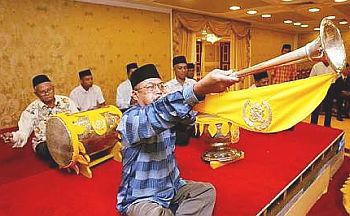 Selangor state did not have any tools of greatness and traditions for the coronation such as special titles or stamps to mark the legality of their existence.
The crown of a king is incomplete without any means of magnificence like Nobat or Nafiri. This disadvantage encouraged King Lumu, who had no Musical or Nobat instruments, to seek recognition from the Sultan of Perak to appoint him as the first legal Sultan of Selangor.
According to the Customs Ceremony of the State of Perak, no Sultan is considered sovereign until he is enthroned with the Nobat sound. A government's existence will only be certified when its king can demonstrate the government's magnificent tools and it is said that these tools are important symbol of power.
On that deficiency, Raja Lumu took the necessary action by obtaining recognition from the Sultan of Perak as the latter had all the equipment necessary from Perak Sultanate heritage.
Raja Lumu is also said to be married to the Royal Princess of Perak and crowned as Sultan Sallehuddin Syah by Sultan Mahmud Shah II, the 16th Sultan of Perak.
Sultan Sallehuddin was later installed before the people of Selangor by sounding the Nobat from Perak. It is clear that the absence of Nobat had prompted Raja Lumu to seek recognition from the Sultan of Perak to appoint him as the first Sultan of Selangor.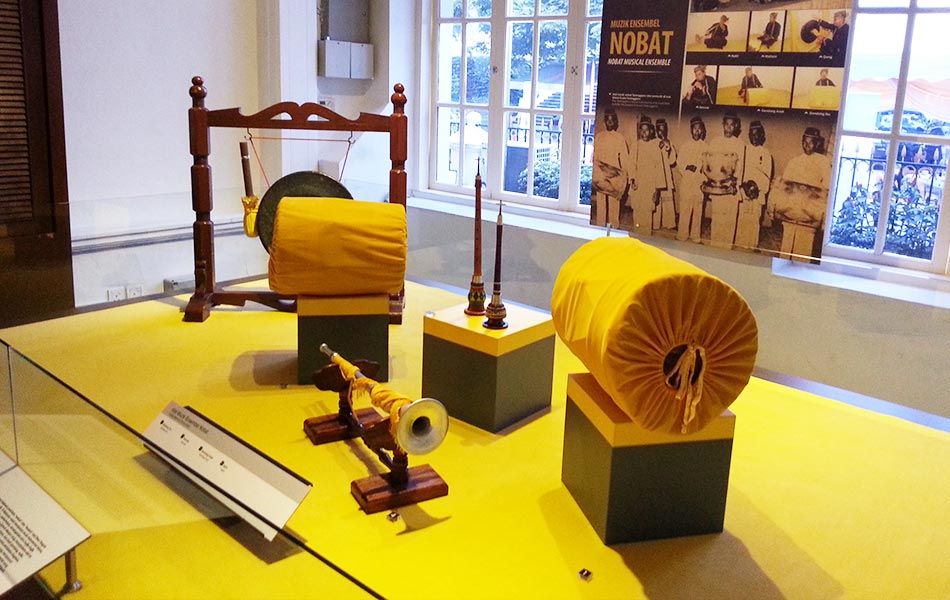 Raja Lumu's coronation as Yam Tuan Muda Selangor created an empire of Bugis-heired sultanate in Selangor. It is evident that Raja Lumu was a man who was steadfast while asking for Sultan Perak's authorization to become a free ruler, as it took a long duration of time to get the Sultan's permission to enter Perak.